Advice for preserving leather
Keep your leather looking beautiful
GENERAL CARE
In order to preserve your leather furniture should always be positioned away from direct sunlight and a heat source. Exposure to excessive sunlight will fade the leather.  This is particularly the case with aniline or semi-aniline leathers, as they have less protective pigment coating than fully finished leathers. Excessive heat will dry the leather.  In turn, this may promote deterioration of the topcoat finishes.
Also, frequent vacuuming and dusting is recommended, as accumulated dust can become quite abrasive and caustic.  In turn, this may lead to deterioration of the topcoat finishes.
In addition, regular wiping with a damp cloth is strongly recommended, as this will assist with the removal of daily contaminants such as perspiration, body oils, skin and hair products and so forth.
Remove any spills immediately, and then assess if any residue or staining remain.  If so, these can then be handled with specific leather cleaning or stain removal products.  Avoid using common household cleaners in general (other than mild soap), as many products may effect the topcoat finish of the leather.
Other than regular cleaning with a damp cloth, we do not recommend too much cleaning using after market products. However 2-3 times a year, depending on use, it may be helpful to clean the leather with an approved leather cleaner.
After that use a conditioner or soiling protectant.  This will keep the leather soft and supple, as well as aid the prevention of common soiling and preserve your investment.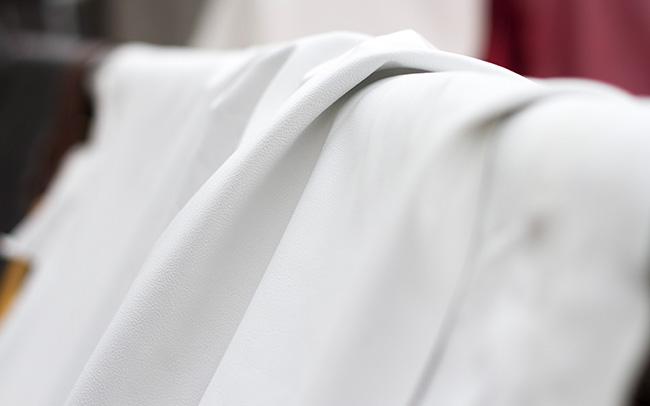 Stain Removal Treatments to Preserve your leather
See following part for stain types applicable and treat by:
LEATHER CLEANER Apply cleaner with a soft cloth in accordance with makers instructions. Wipe with clean dry cloth.  Always allow to dry before further cleaning or conditioning.
WARM SOAPY WATER Rinse by sponging with clean water to remove all traces of suds. Blot with clean dry cloth.
COLD CLEAN WATER Blot with clean dry cloth.
PROFESSIONAL CLEANER This stain type is likely to cause permanent damage, expert attention is required.
ICE PACK Apply to stain. Break residue to remove from leather.
INK ERASER Use Ink Eraser in accordance with instructions.
Stain Types
Use the approved stain removal method for each type, as the corresponding Stain Removal Treatment
| | | | |
| --- | --- | --- | --- |
| Alcohol (not wine) | 1 or 2 | Wine | 1 or 2 |
| Beer | 1 or 2 | Ball Point | 6 or 1 |
| Baked Beans | 1 or 2 | Beetroot | 1 or 2 |
| Blood (fresh) | 3 or 1 | Butter | 1 or 2 |
| Candlewax | 5 or 1 | Chewing Gum | 5 or 1 |
| Chocolate or Sweets | 1 or 2 | Coffee | 1 or 2 |
| Cooking Oil | 1 or 2 | Cough Syrup | 1 or 2 |
| Crayon | 1 or 2 | Cream | 1 or 2 |
| Excrement | 1 or 2 | Fat | 1 or 2 |
| Fruit Juice | 1 or 2 | Gravy | 1 or 2 |
| Ice Cream | 1 or 2 | Ink (fountain pen) | 6, 1 or 3 |
| Lipstick | 1 or 2 | Mayonnaise | 1 or 2 |
| Milk | 1 or 2 | Mud | 1 or 2 |
| Nail Polish | 4 | Oil | 1 or 2 |
| Paint (oil base) | 4 | Paint (water base) | 4, 1 or 2 |
| Polish | 1 or 2 | Soft Drink | 1 or 2 |
| Soup | 1 or 2 | Spaghetti | 2 |
| Tea | 1 or 2 | Urine | 1 or 2 |